Zero to Fifty
How my running journey began
Running
Until relatively recently, I never "got" runners. Growing up, with the exception of the mandatory mile during the fitness test, I didn't run, and couldn't see why anyone would choose to do so. Running seemed horribly boring, and because of the side aches that quickly came on, I thought I just wasn't built to for it. I was always active and exercise was important to me, but running just didn't seem worth the monotony and pain to choose it for my form of exercise. As a competitive figure skater in middle school, one of my friends convinced me to try joining the track team to cross train for skating. I dropped out after the second practice.
And so it went until after I graduated from college in Madison, WI in June 2013, when two very serendipitous things happened: I heard about Couch to 5k from one of my friends, and I stumbled upon Scott Jurek's book "Eat and Run" in the public library. I can't remember which of these came first, but I look back on this period now as when, for no apparent reason, I decided to become a runner.
Couch to 5k
2013-2014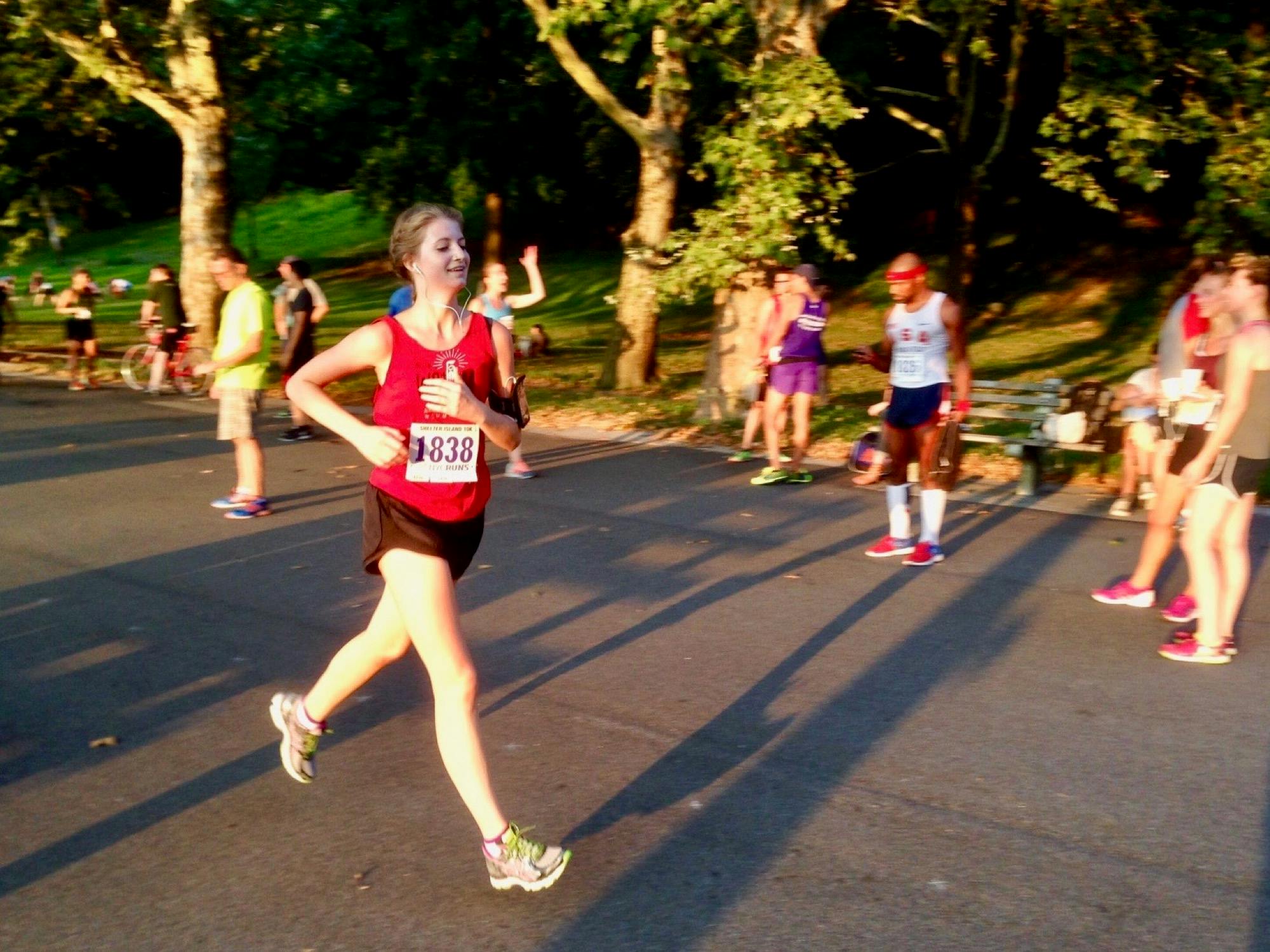 August 6, 2014 — Nearing the finish during my first 5k
Couch to 5k was an app which promised to guide anyone from walking to running 5k (3.1 miles) gradually over the course of several weeks. I figured I'd give it a shot. Having never run more than one mile at a time, the distance seemed like a daunting challenge. Because the program broke up the running into small intervals with walking in between, I was able to gradually train my body to run. I enjoyed running outside along the beautiful lakes of Madison in the summertime. I loved going down streets I never had a reason to explore before, and the sense of purpose I had going into a run, and spending the time outside.
As for the second thing: One day I was wandering around Madison and wandered into the public library near my house where they had "Eat and Run" out on a shelf. I have never had an interest in reading books about sports, but I checked it out and read it in about a day. I was so inspired. I had never heard of anyone running longer than a marathon before, plus he was a Midwesterner like me. I don't think the idea that I should run an ultramarathon ever crossed my mind at that point, but it definitely put ultramarathons on my radar.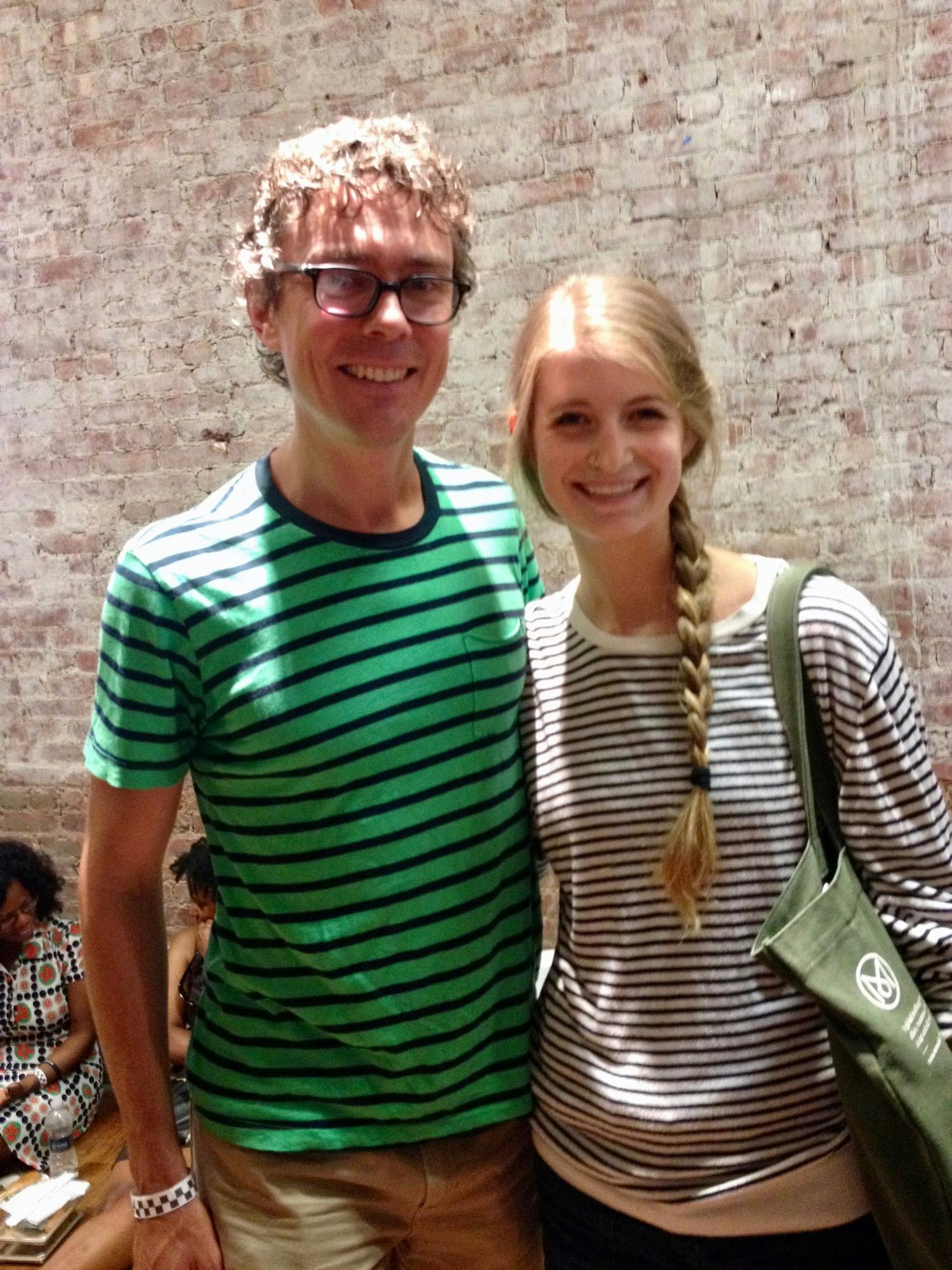 August 9, 2014 — A photo of me with Scott Jurek (!)
I graduated from Couch to 5k, my side aches abated, and I turned to music as my training coach, making deals with myself to "just run until the next song" but then sometimes that next song would inspire me and the uphill would transition to down and I'd give it "just one more song". I remember vividly one night going on a run through a hot summer night thunderstorm and feeling absolutely liberated as I jogged through the lit up streets soaking wet. Was I really the type of person who found running fun?
I ran my first 5k race in New York City in Aug 2014 along the Hudson River on the upper West side of Manhattan. It was a casual race organized by NYCRuns and I finished in 30:01. You better believe I fully carbo-loaded and carbo-celebrated. It was a big accomplishment for me. After running a second casual 5k later that month, I decided to see if I had what it takes to do a "serious" distance — a half marathon (gulp!). I signed up for The Running Festival of Lights in Bay Ridge, Brooklyn which takes place around Hanukkah, leaving me with 3 months to train.
The Half Marathon
2014-2016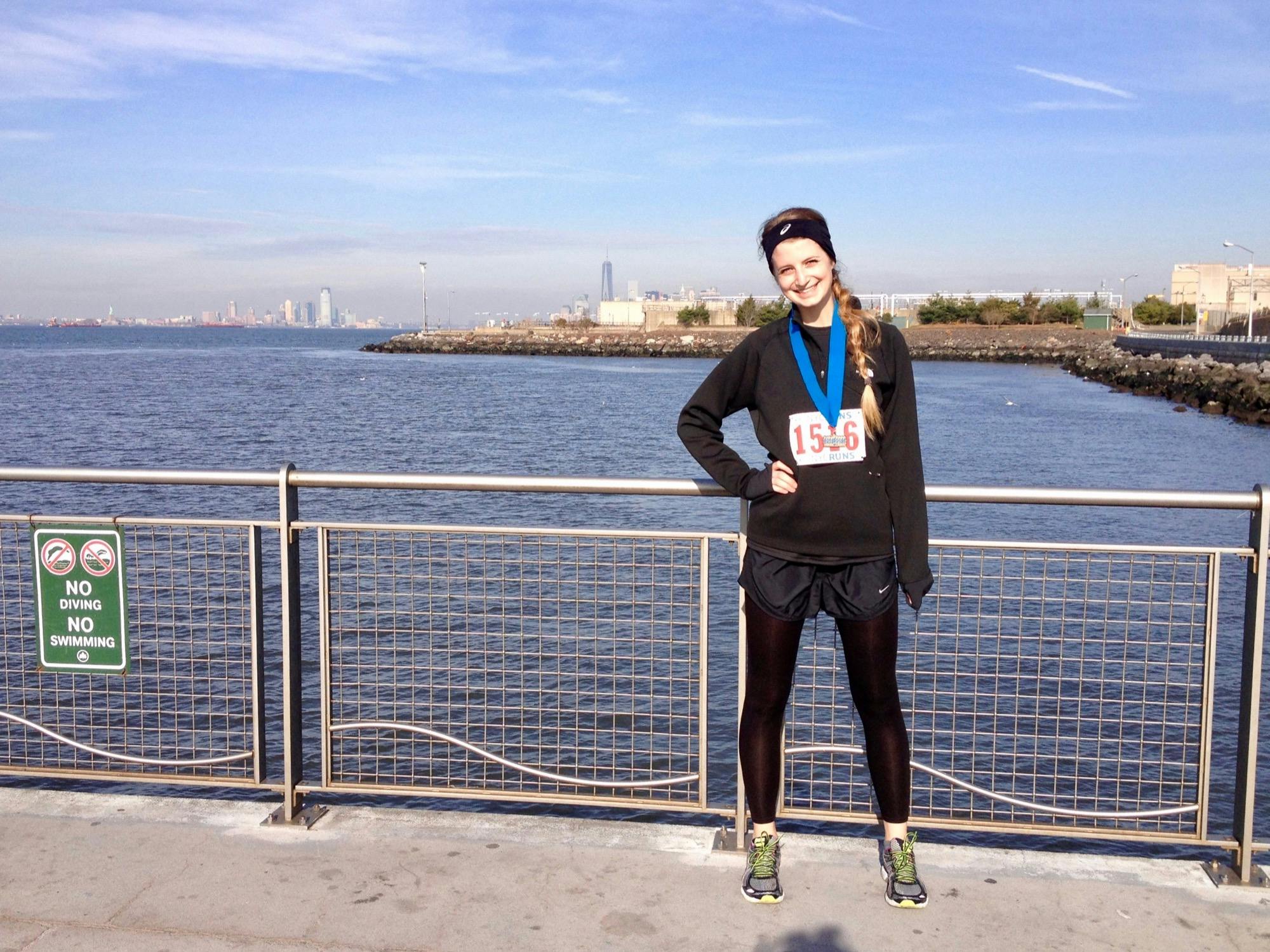 November 23, 2014 — My first half marathon
Training for my first half was a very transformative experience for me. I used Hal Higdon's 12 week Novice 1 Half Marathon Training Plan. My training months overlapped pretty exactly with this 3 month intensive web development course I was taking, and while a lot of people thought I was crazy to add yet more things to my life during that busy period, I learned that committing to a running plan and prioritizing it was one of the best things I could do for myself.
I trained in the mornings Tuesday through Thursday before class, and took a leisurely long run on Sundays. Having always been a morning person, I loved having a reason to get out of bed and outside. To clarify, no I didn't usually want to spring out of bed just to get sweaty outside, but once I was already out there, I always felt happy for it. I lived close to the West Side Highway, so I got to run right along the Hudson River, sharing the scenic path with all sorts of New Yorkers — fit dads whisking their kids (sometimes twins!) in strollers, serious runners sporting last years' NY Marathon shirt, couples in sweats conversing on their jogs to morning coffee, spaniels running alongside their pony-tailed owners. I felt more like an observer than a participant, but I was happy to experience a different side of the city. It felt healthy. And more than anything, I loved seeing the sun come up over the skyscrapers and, when my weekday mileage reached 4.5 - 5 miles, the Statue of Liberty.
I used my long runs as ways to experience the city, and I always had a food destination in mind. For my 8 mile run, I mapped a route over the Williamsburg Bridge and into Brooklyn, ending my run at this vegan doughnut shop, where I ate my strawberry glaze doughnut with the utter satisfaction of having run all the way there to get it (then I hopped on the subway home). For my 10 mile (my longest training run) I made it all the way up the West Side and cut over to Central Parks, ending at the best bagel shop in the city on 108th street.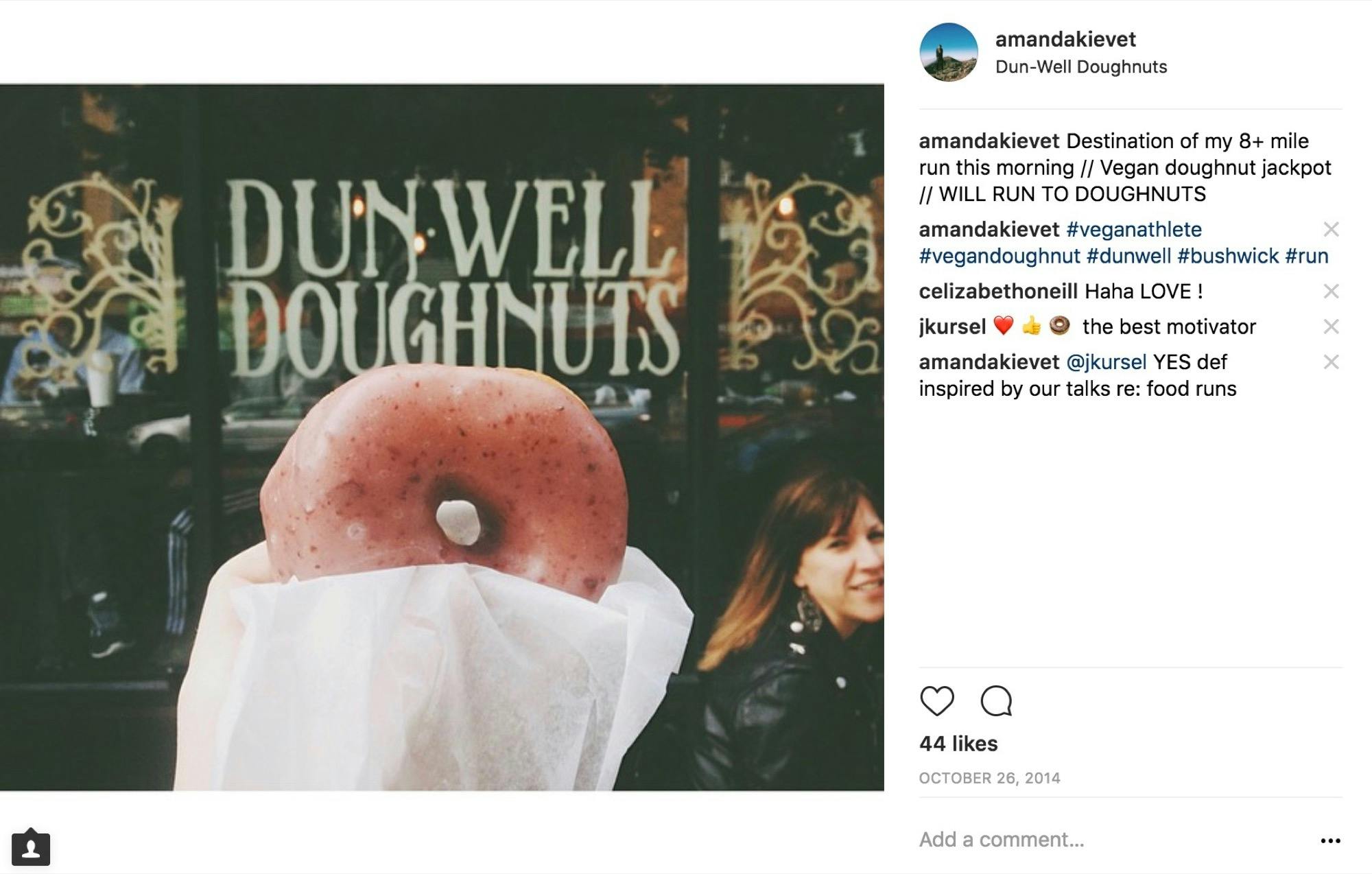 Running 8 miles to vegan doughnuts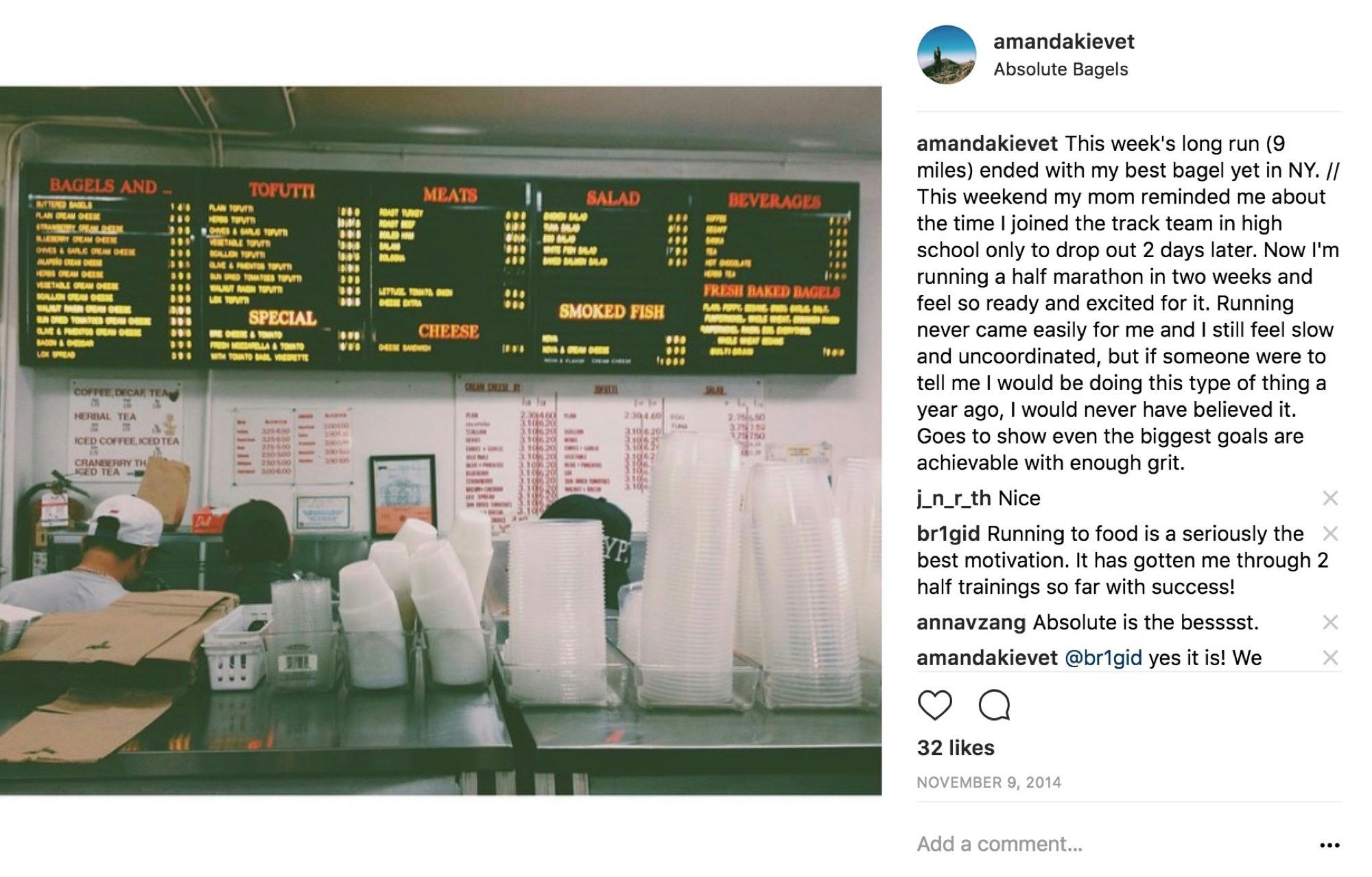 Running 10 miles to Bagels
As my long runs grew longer, one thing I did start to notice was that about 1.5 to 2 hours after my run, I felt very bad. Immediately after the run, I felt amazing, and I ate my doughnuts or bagels with gusto, but inevitably once I got home, I'd end up curled up on the couch between trips to the toilet. I got chills and diarrhea and would spend most of the rest of my Sunday watching Netflix in a sad state. For some reason I managed to avoid this if I had plans right after my run that forced me to stay out and about. But if I could afford to get sick, I always did.
Running my first half marathon was the hardest (physical) thing I'd ever done up to that point. Going into the race, I felt pretty confident that I could physically do it because I had religiously followed my training schedule. But, as I had never run farther than 10 miles until then, I could not be positive. The question I was looking to answer that morning: was I they type of person that runs half marathons? I would know the answer in just a matter of hours.
I invited a couple of friends to come cheer me on, and they were nice enough to get up early on a weekend, take the train to the far reaches of Brooklyn, and stand around on a cold November day while I ran. I loved the atmosphere and excitement of the race, being one of the many nervous (and cold) runners standing around waiting for the start.
As it turned out, I was able to run 13.1 miles. I finished with a time of 2:13:53, and I was so proud of it. My friends and I headed out for celebratory brunch in one of their neighborhoods, but by the time our food arrived, the horrible sick feeling came over me again. I took my food to go and laid down at my friends' house, not feeling capable of taking the train. As I heaved into the toilet bowl, I had to laugh seeing my medal hanging down below, thinking to myself "how's this for a victory?". Several hours later, my roommate helped me home and I finally felt good enough to eat my brunch around 6pm.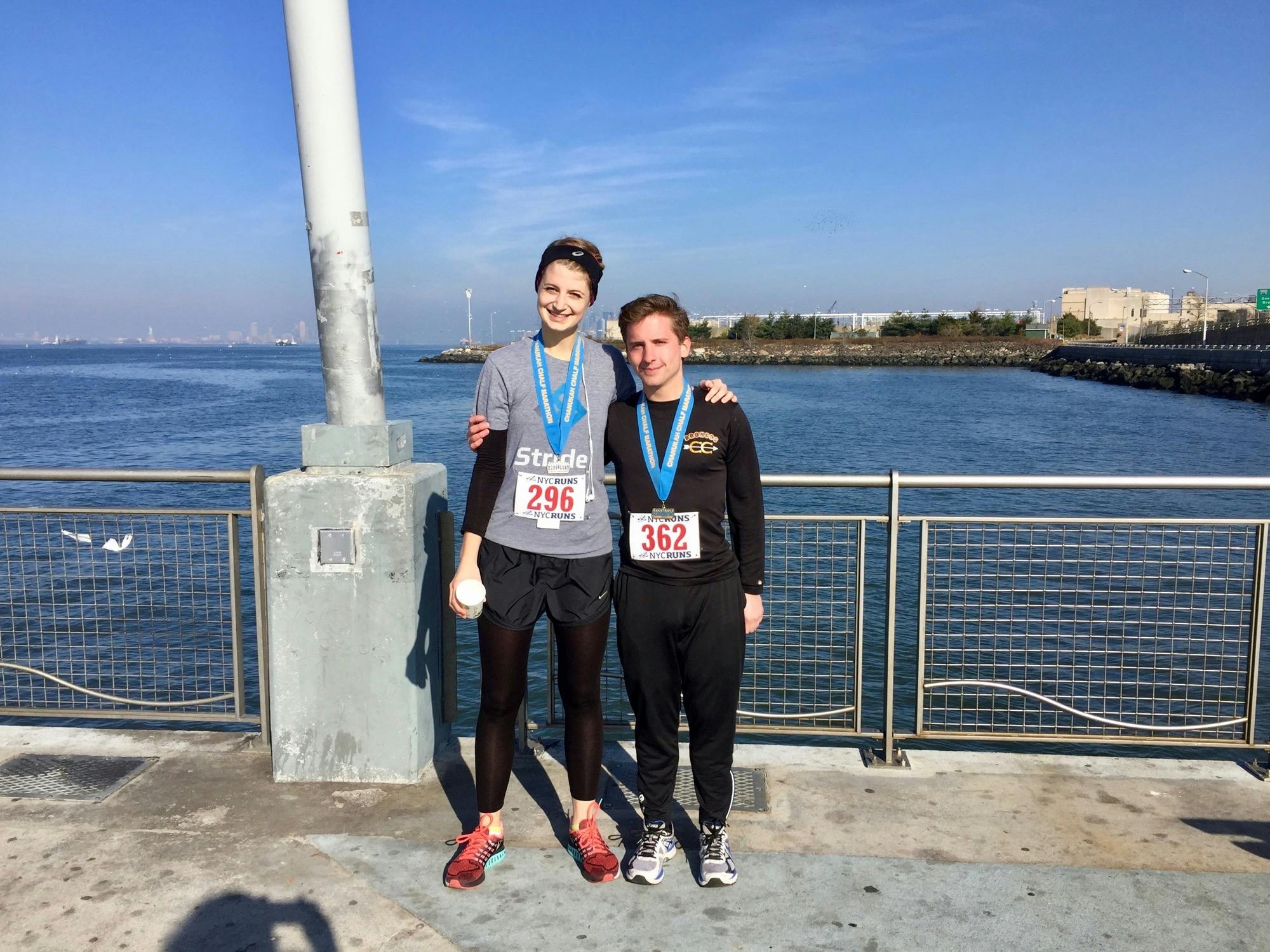 December 6, 2015 — with my pal Nat before my second half
I signed up for the same race the following year, and I followed the same training schedule. I finished with a time of 2:23:45 and, I got slightly less sick afterwards. My mom happened to be in the city that weekend, so she came with to support me. As I was soaking in an Epsom salt bath trying to calm my stomach, she told my friend who raced with me, "never let her do this type of thing again."
Moving to Mountains
2016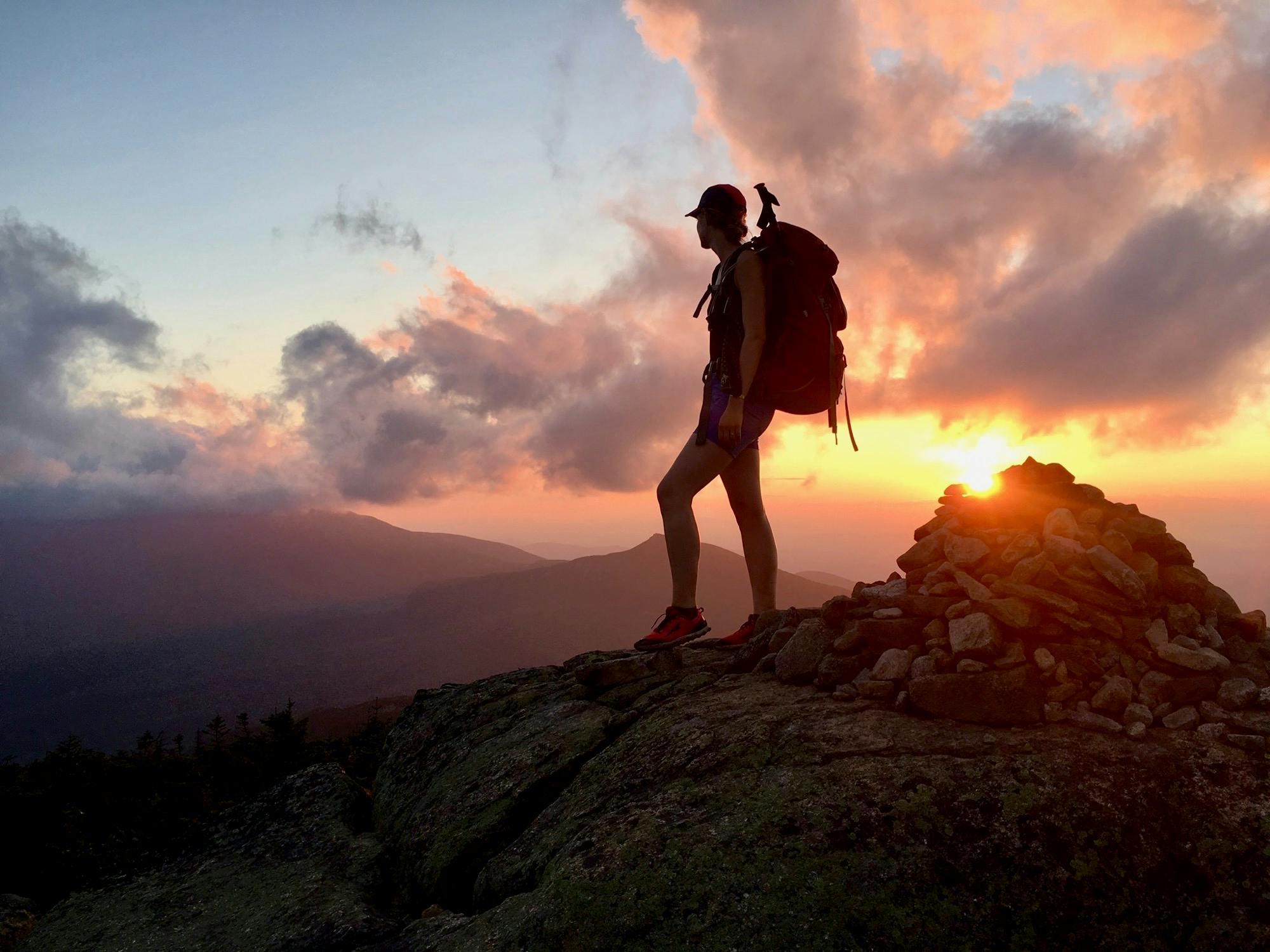 Mountain woman Amanda
In 2016 I traded the city for the mountains when I moved to Vermont. I started hiking a lot on the weekends in the White Mountains of New Hampshire with my then fiancee, Cody and in the summer, bought my first pair of trail running shoes. I decided to keep my annual streak going and sign up for a local half marathon to benefit the children's hospital (the CHaD Hero). This time, feeling confident from weekends spent hauling myself up and down mountains, and with two half marathons in the bag, I followed Hal Higdon's Intermediate 1 level training plan, and ran it on the hilly dirt roads around my new home, rather than the flat paved tracks of the city. I finished with a PR of 2:09:06, and it was a MUCH hillier course. Again, I got sick, but only for a couple of hours this time.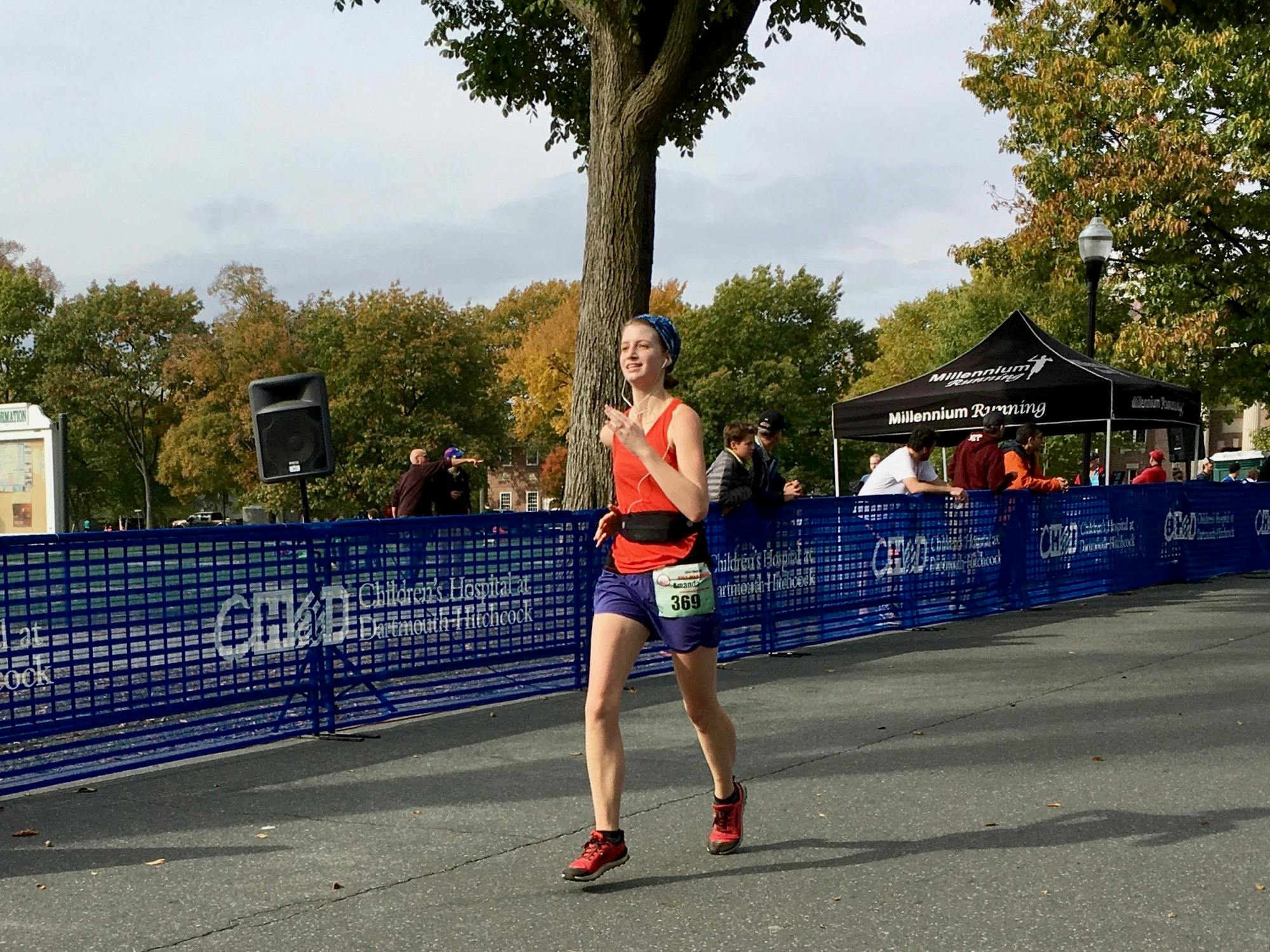 October 16, 2016 — CHaD half marathon
Around the same time, my friend, Doug was training for his first 50k — a super rugged one called The Rut in Montana. I was so impressed. We talked about his training during our many hours spent hiking together that summer. Doug was definitely more athletic than me, but he was a real person, unlike the Scott Jureks of the world. I knew him and kept up with him decently well in the Whites. The seed was planted in my mind about what my next challenge would be. I wanted to run an ultra marathon, and I wanted to run it on trails.
The one thing I knew was standing in my way of successfully finishing 31 miles, was my continued stomach issues. I tried doing research online, but couldn't really find any answers. Day to day when I wasn't running, my stomach wasn't great either. I tried the Whole30 diet in February, which cured my issues, but made life in general difficult. I also couldn't pinpoint the problem.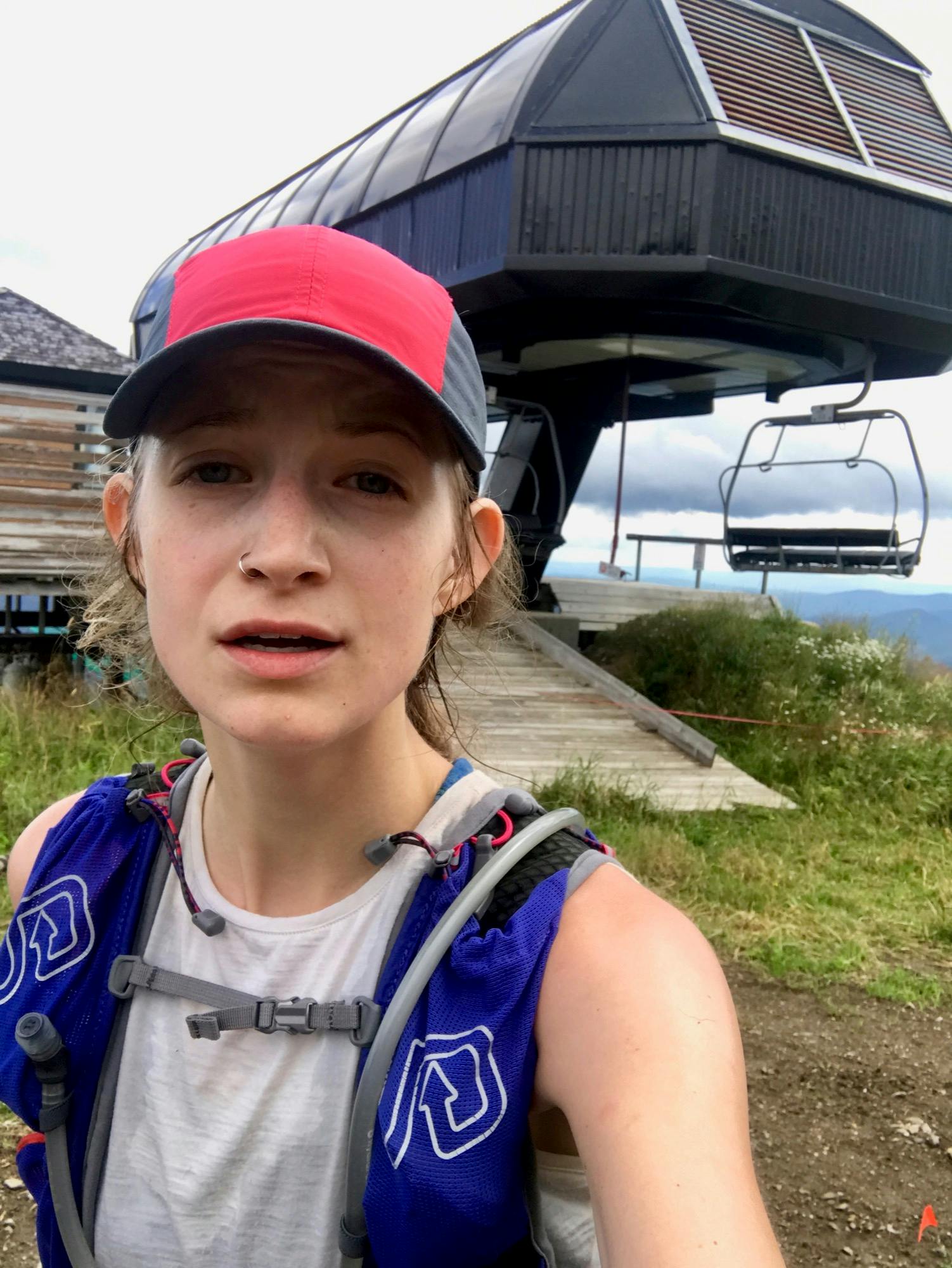 Running up hills sometimes is miserable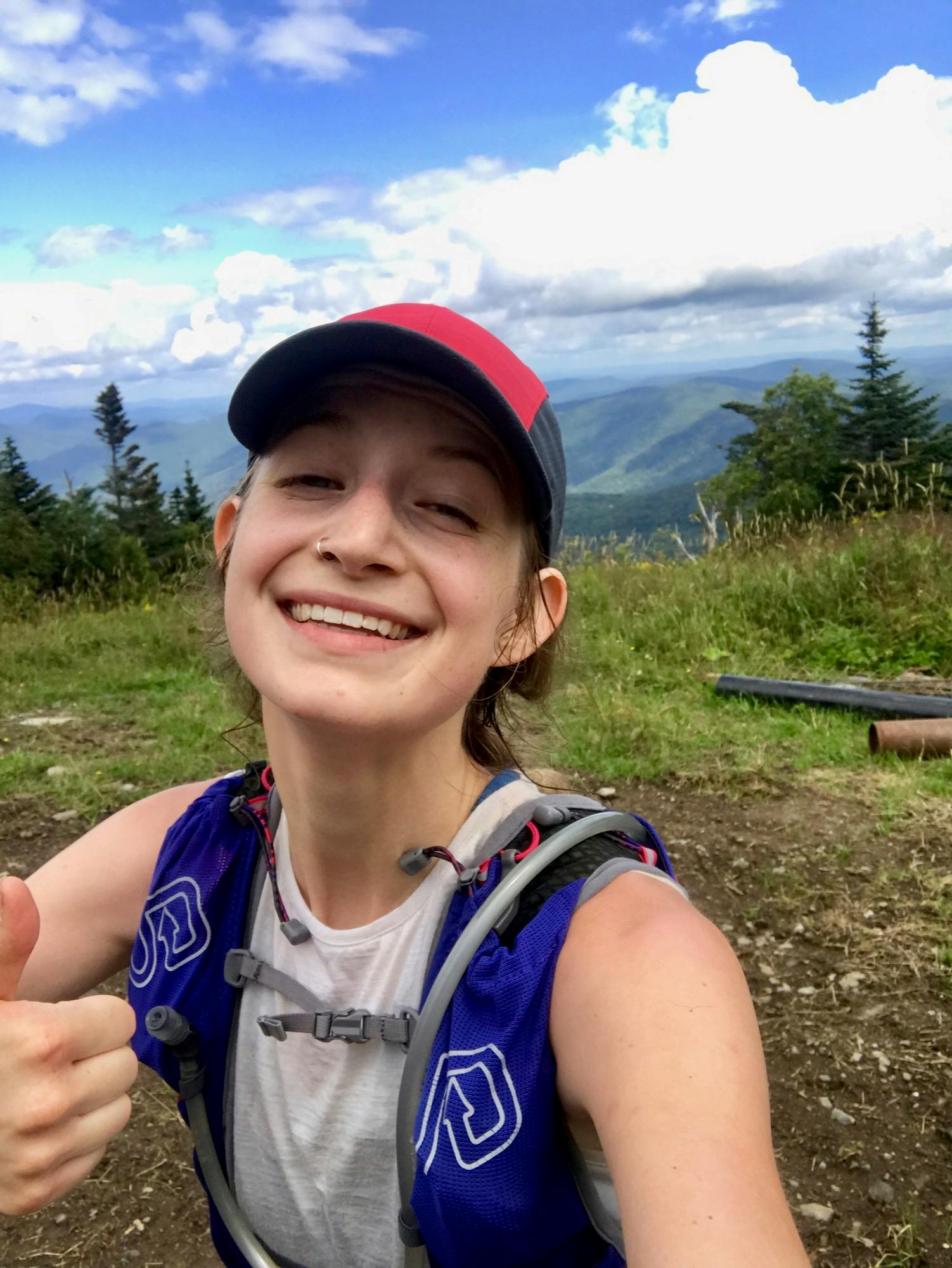 ...but with the nice views, you always have to smile
I picked out a 50k that sounded like it would be a good first one for me — The Vermont 50 (read the full story here. I chose it because it was local which meant no travel, and home-turf advantage, and it took place at the end of the summer so I would have plenty of time to train. At the beginning of May, 20 weeks until the race, and before the race registration opened, I started training. I found a 16 week training schedule through Competitor and worked backwards to plan out getting to the 10 mile long run starting baseline.
I had I still hadn't made up my mind about doing the race. I knew I would have to set aside a good amount of time every week to make it work. Also, my wedding was three weeks before the race date — could I manage training for this incredible distance, and plan a wedding at the same time? Thinking back to the circumstances around training for my first half marathon, I decided that yes, I could. And I'm so glad I did. I also convinced Doug to sign up too.
The 50k
2017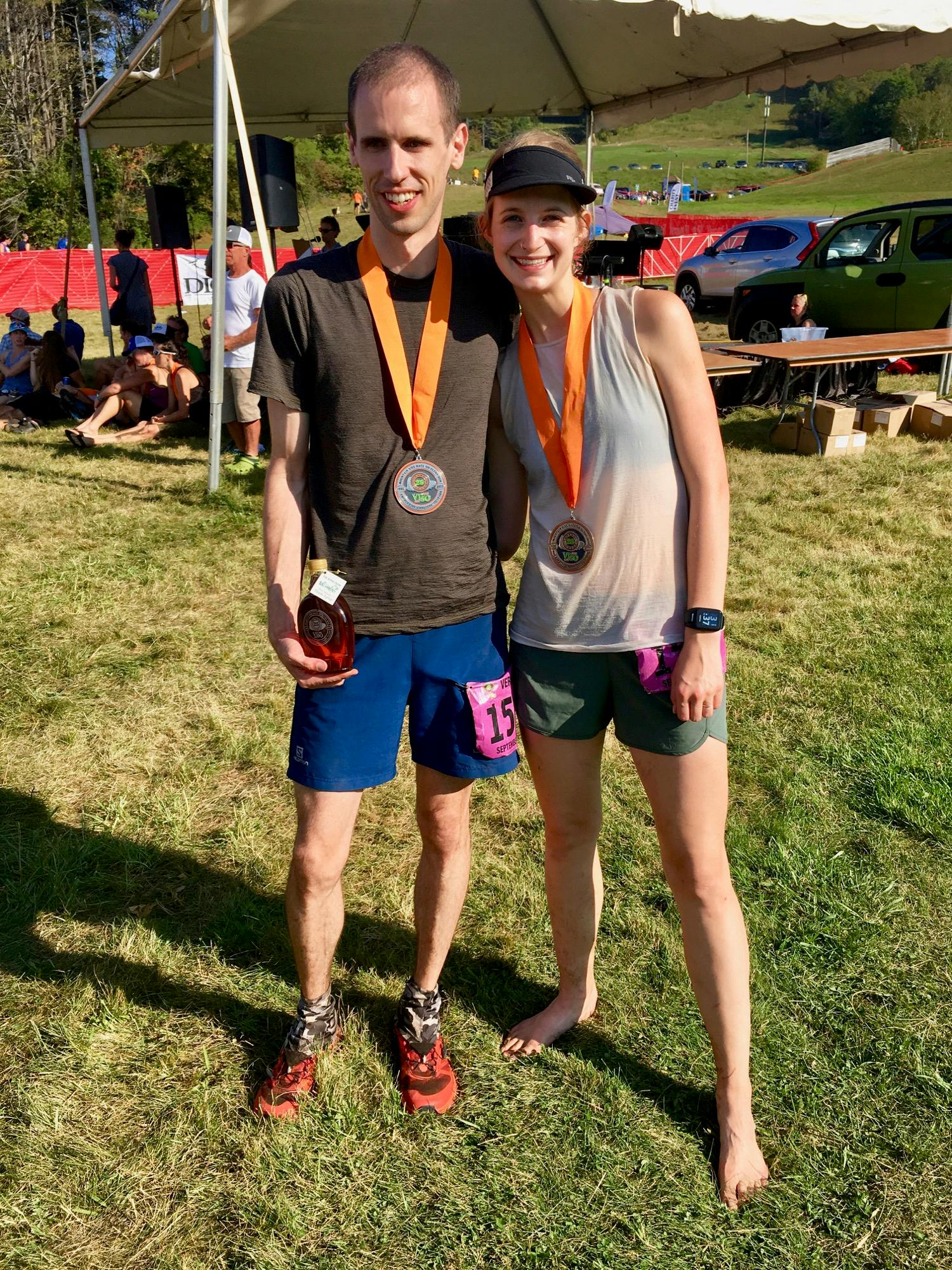 September 24, 2017 — Doug and I after Vermont 50
Ultramarathons are not like half marathons, where I realized you could basically not train, and be ok. Running an ultra would require me to understand more about how to fuel my runs properly, how to drink enough water, how to pace myself (ok, I didn't really understand this one at all to be honest). I bought Krissy Moehl's book "Running Your First Ultra". It was in there that I learned about recovery windows — periods of time following an endurance run where your body needs certain inputs. I learned that it's important to just eat something within about 20 mins after finishing a run — ideally something with a 3:1 carb to protein ratio — to replenish glycogen stores, and then have a bigger meal around 1.5 hours later. I had been skipping the first and crucial window, worried it would make me feel sick, but this was where I had gone wrong. I decided to make a change. Not wanting to have to put much thought into it, I bought a recovery drink mix from GU and started taking it immediately after getting back from a run. It was like magic. My stomach issues totally disappeared. I wanted to sing GU's praises off the mountain it was such a big change.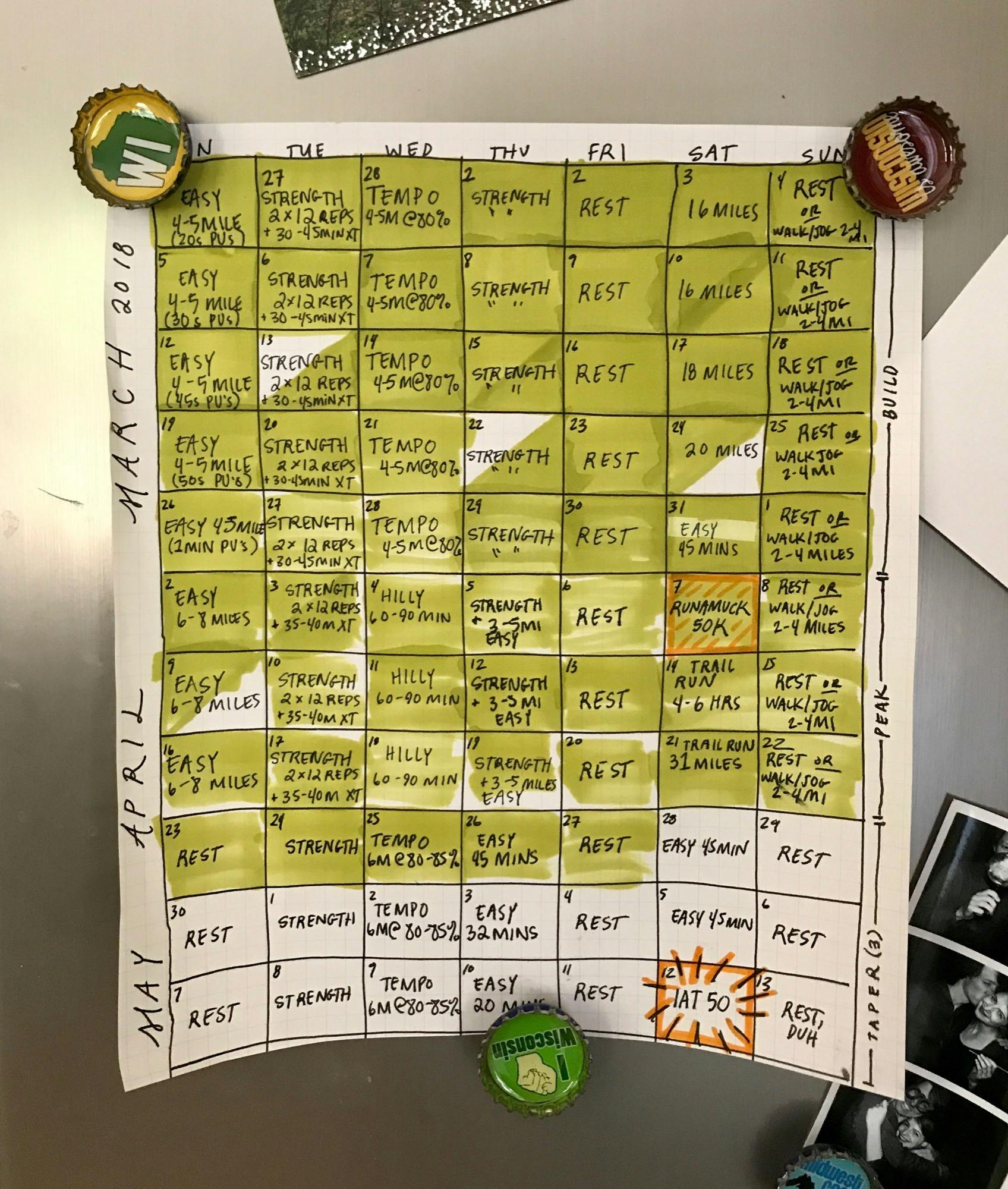 My first 50k training plan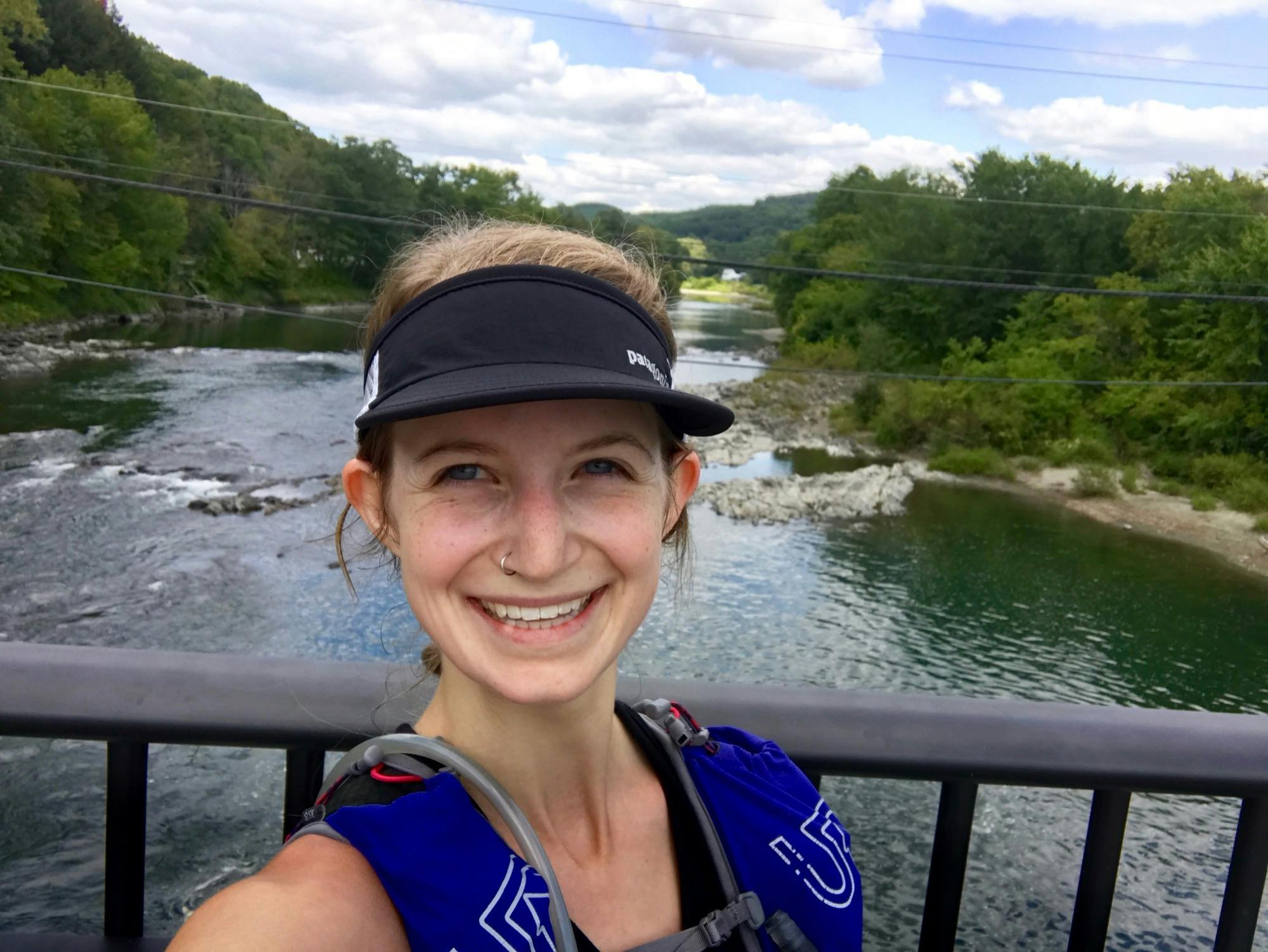 August 27, 2017 — that time I ran my first marathon on the AT all by myself for training.
My stomach still wasn't awesome while I was on trail all the time, and for that I also came prepared with my handy titanium sh*t shovel tucked in my running pack. When I was flying to Wisconsin for the wedding and needed to continue my training, I almost got it confiscated by security and nearly cried. The security folks were, understandably, confused about it.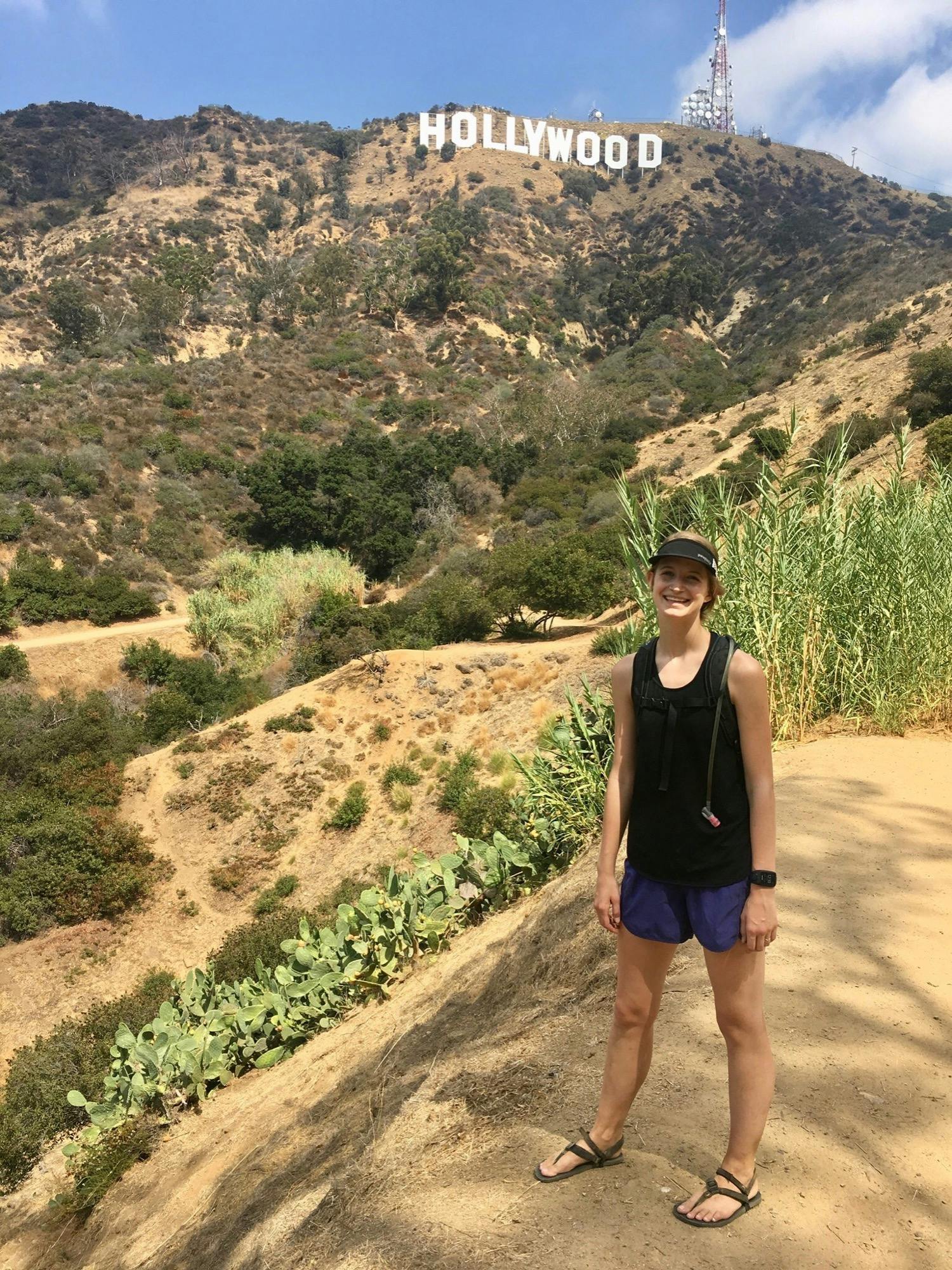 September 16, 2017 — training on my honeymoon.
September came, I spent my taper weeks getting married, and honeymooning in California. Then when I got back, I had the big race to look forward to. I have written in detail about it here, but long story short, the Vermont 50 was an awesome experience. I finished strong despite the unseasonable heat, and immediately wanted to sign up for the next one. The atmosphere of this race was so different than the half marathon road races I had done, and coming through the finish line was that much sweeter since the race was that much longer (about 6.5 hours, versus around 2). And, as a true testament to the success of my recovery drink, I didn't get the least bit sick afterwards.
50 Miles
Present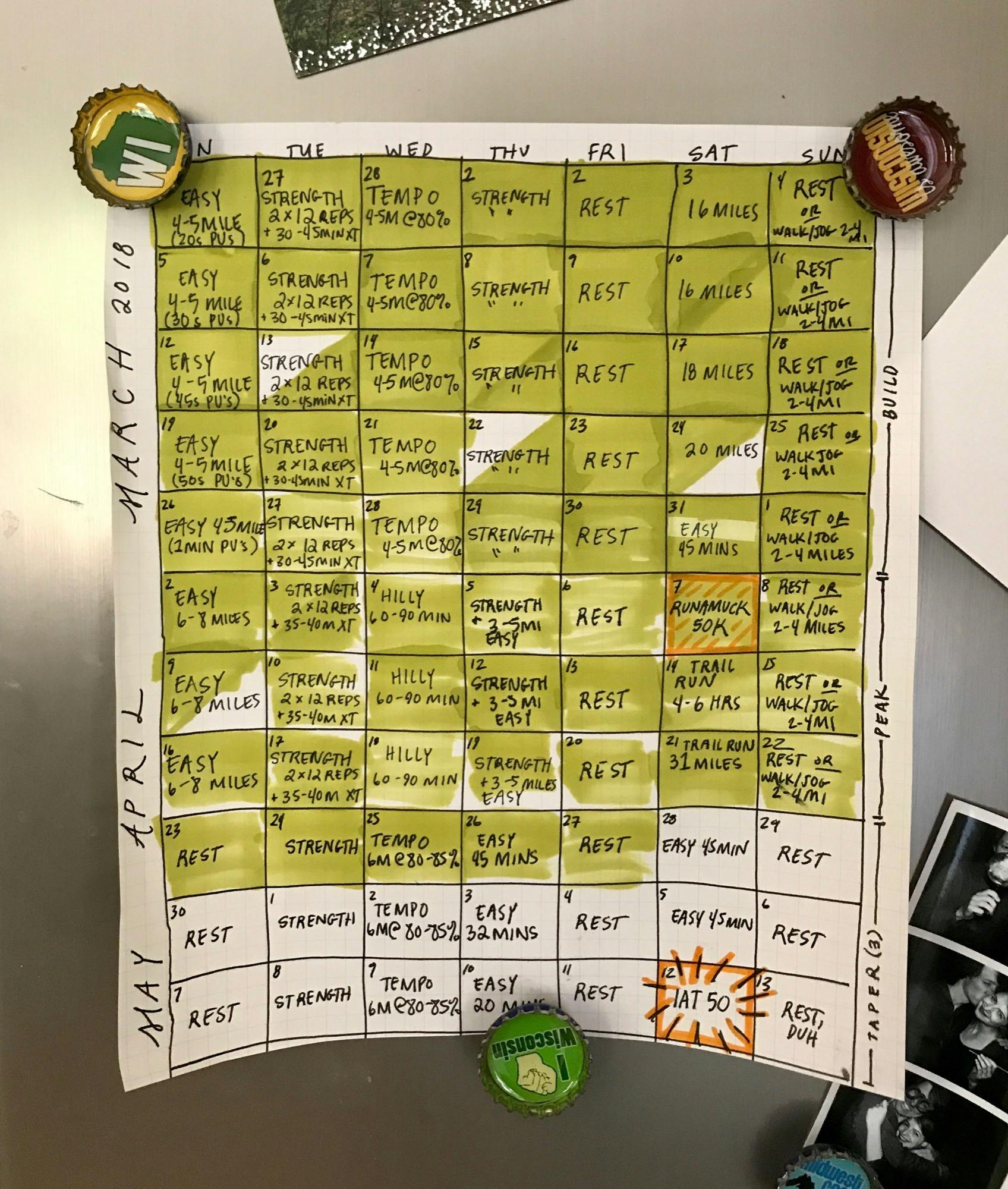 My training schedule on the fridge for the Ice Age 50
Now onto next challenge: The Ice Age 50 in La Grange, Wisconsin on May 12th. Unlike most parts of my home state, this race will have hills (8,000 ft elevation gain) since it's in the so-called "Driftless" region – an area known for not being scraped flat by passing glaciers during the ice age. The course follows the Ice Age trail through the lush green forest in Southeast Wisconsin and is one of the older and more popular ultramarathons out there. It sold out fast with 550 participants, many of whom choose to come back up to 27 times to suffer in the woods.
Because the race is so early in the season, I had to train through the winter, which was a new experience for me. I followed this training plan from Runners World, making some tweaks to account for the added difficulty of running in snowshoes instead of on dry trails, and swapping out some long runs for winter hikes. I proudly never stepped on a treadmill. I found that getting outside on a nearly daily basis through the winter made such a difference in my overall happiness. Though I've been a huge fan of winter hiking over the past few years, just bundling up and getting after it on a weekday morning (or better, at lunch when it's warmest and lightest) instead of just on weekends was great. I did a couple of wintery training races – the Frigus 15k Snowshoe race (blog post here) and the Runamuck 50k (blog post here).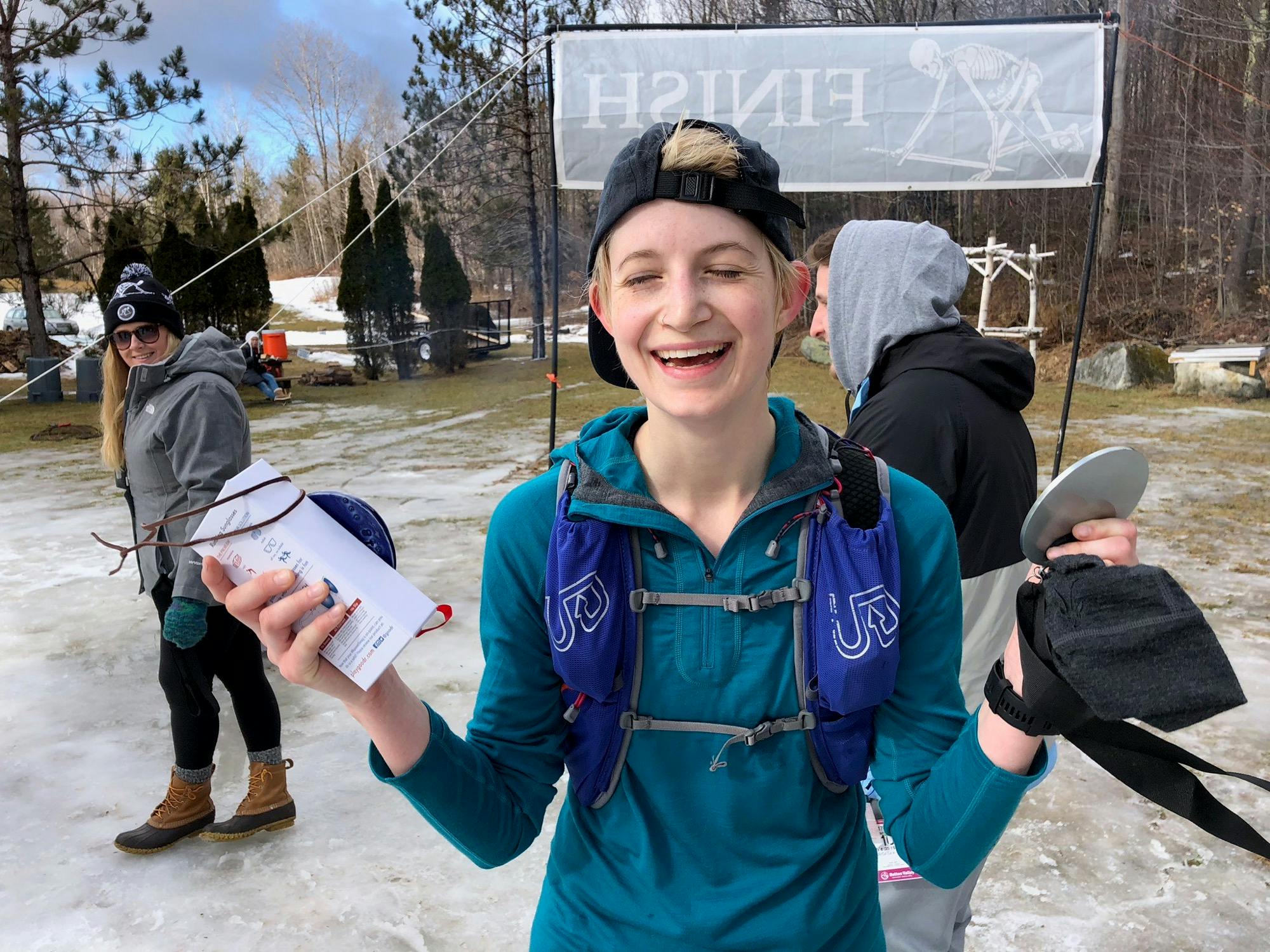 February 24, 2018 — finishing first female in the Frigus 15k snowshoe race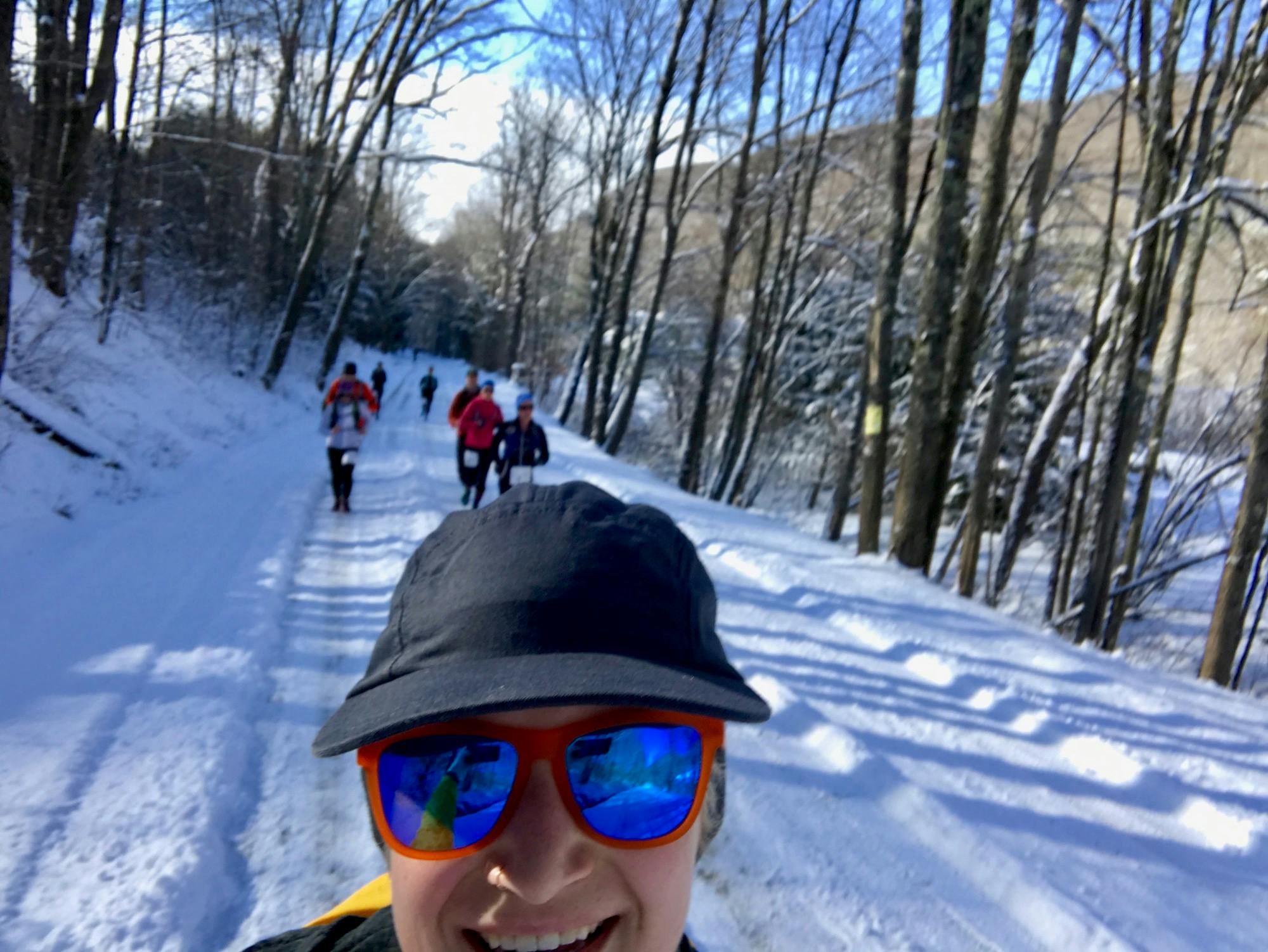 April 7, 2018 — a winter training 50k (Runamuck)
I also recently joined the Upper Valley Running Club to push myself out of my solo-long-slow-distance running comfort zone and work on speed exercises once a week on the track (oh, how far I've come from my middle school days), as well as make more runner friends. Everyone else in the club is wicked fast, but it seems a smidgen of speed is rubbing off on me as I've been PR'ing on shorter distances pretty frequently.
Now, I'm in the taper stage of training. The race is just two weeks away, and I find myself in a similar place as I was before my first 50k – confident in my training, nervous because at those distances anything can happen, and just excited. This will be my first time racing in my home state, and I'll have my family cheering me on at the aid stations. If I finish by the cutoff time of 12 hours, I'll get my first belt buckle. Stay tuned!
Conclusion
My goal in writing this was to put my story out there, both as a way of "explaining myself" about why I choose to chase down farther and farther distances "like a crazy person", and to inspire anyone who thinks they can't run for some reason to perhaps give it a try. Like so many runners before, I would say that running has become a core part of who I am (recommended reading: Haruki Murakami's book on the subject). Through it, I have learned a lot about myself, but it's also a daily practice. It has helped with my anxiety, and especially lately through the running club, has led me to find a community. Running is hard, and it never gets easier – you just get faster at it, but I think it's good to practice discomfort because it makes the comfortable times that much sweeter, and it gives me more strength to face the unexpected tough times. I'm in the best shape of my life. I'm constantly working toward a goal through training for races. I love crossing off completed runs from my training schedule and seeing the progress over time. Running gets me outside almost everyday. And lastly, it just feels good. This was something I didn't expect when I started, and I still have some pretty miserable feeling runs. But when I'm flying downhill on a trail, my body brushing against leaves, my feet (usually) landing in just the right place for me to spring forward again, the sound of my breath and the leaves rustling the only thing I hear, everything feels right. This is why I call myself a runner.