Mt Isolation
From fall to winter and back again
Unusually, we hadn't been to the White Mountains in many months — since the beginning of July when we attempted a Moonlit Presidential Traverse (see post). Our chores list took over this summer with the garden and the bees and the spontaneous decision to welcome two sheep to the farm, so… long days in the mountains didn't happen as much as I would have liked. Finally with a free weekend and some good weather, we decided to head out to a not-too-popular trail with epic views and a summit we'd only touched once: Mount Isolation via Glen Boulder.
We chose this hike because it's not too crowded (though more folks heading to Isolation than I'd anticipated), has great views and some nice long ridge sections and is long and strenuous, but not too much so. One of the things that generally keeps the crowds from hiking this peak is that while it's just a hair over 4000 feet, the route to get there goes up and over the shoulder of Mount Washington around 5100 feet then descends a long way before a small rise to the summit of Isolation. Then you have to go back up to go down. In total, you actually gain a lot more than hiking Mount Washington.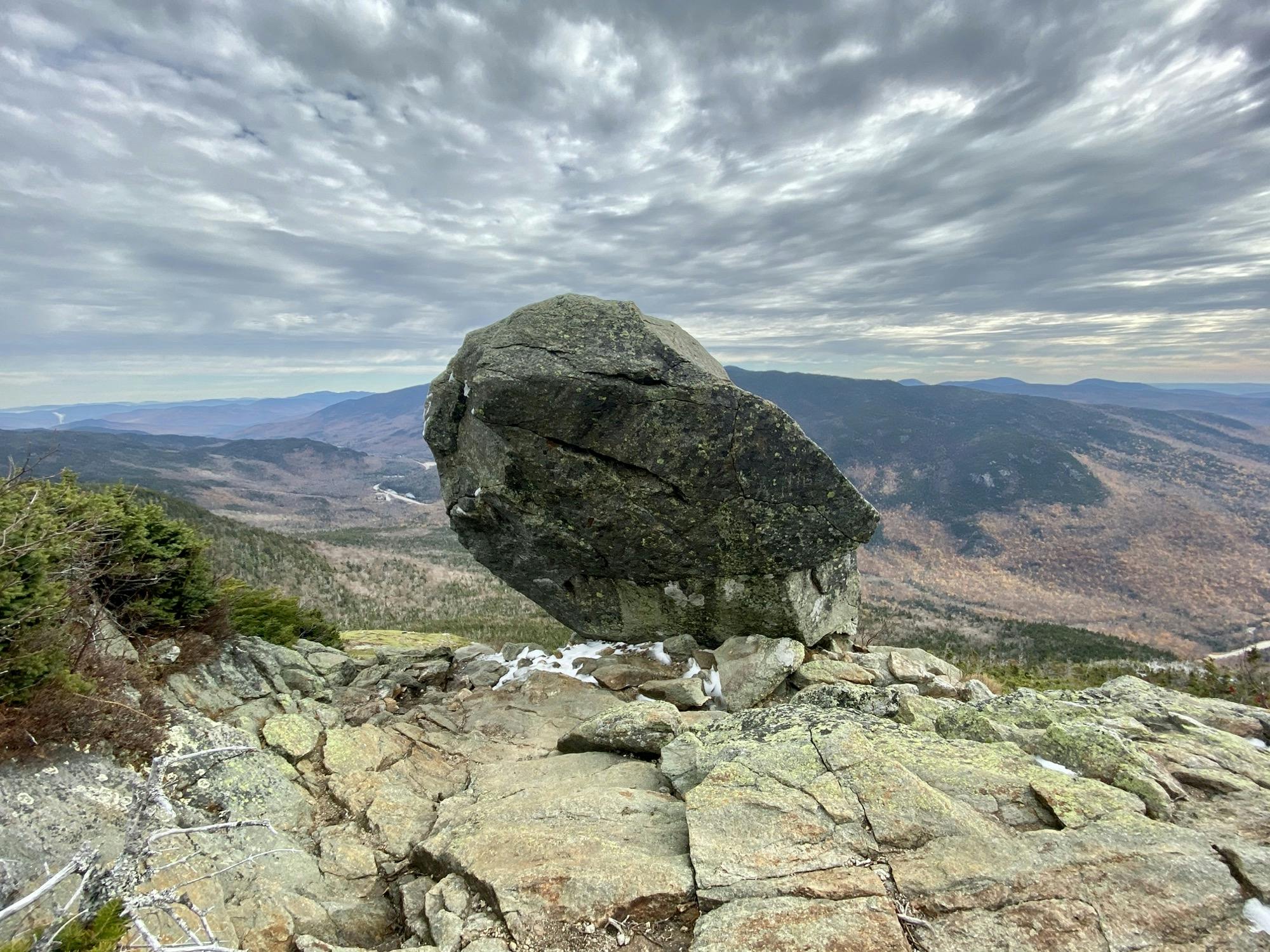 We parked at not-too-crowded Pinkham Notch and made our way through the late autumn forest on The Direttissima and then climbed more steeply on Glen Boulder. Above treeline, we started to see snow in the nooks of the big boulders. Once we passed the notorious Glen Boulder perched stoically overlooking the Notch, we found ourselves in a new season: winter in the Whites had arrived! Because we haven't learned our lesson yet, we neglected to bring spikes or any real winter layers. Luckily, it wasn't too cold and the slippery patches weren't too exposed or long. Even with one dog on a leash, we managed to only take a couple small falls into soft snow.
We turned onto Davis Path and descended down down down back into late autumn en route to the summit of Isolation. When we weren't creatively making our way over blown-down trees with the leashed Blue dog, we were hoping from rotten log to rock, or clinging to the dry periphery of the trail to avoid large sections of muck. We saw quite the crowd atop Isolation, but nobody at the true summit — just one little climb over from the initial exposed slab. We enjoyed a snack and the views out toward the Southern Presidentials, then headed back.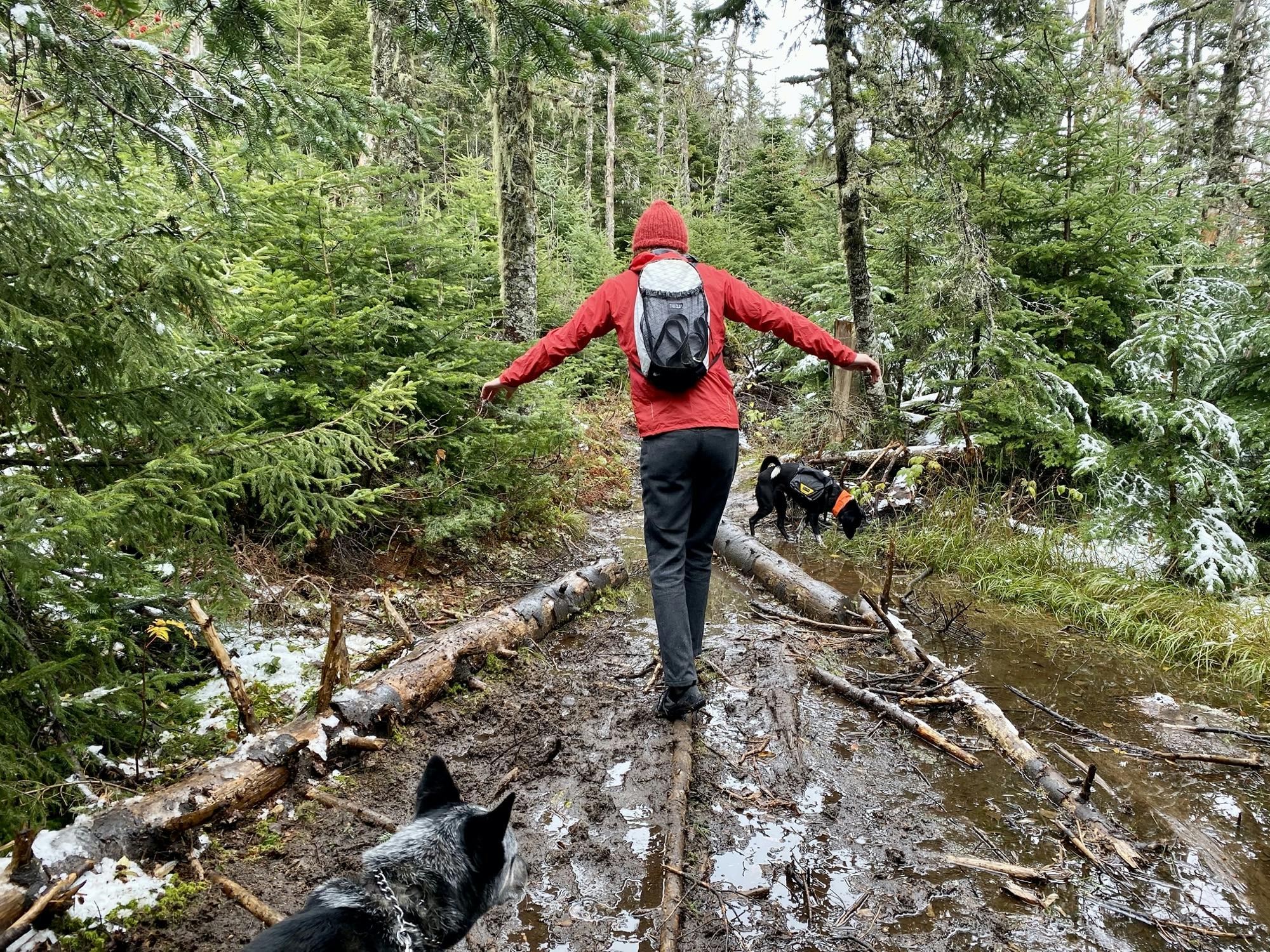 I'm coming up on my fifth winter hiking in the Whites and realize I am fully a "winter person" now. On that snowy ridge I got giddy with excitement for short dark cold days filled with rosy cheeked hikes through magically transformed (and wonderfully less crowded) snow-smoothed landscapes. And for a nice dark beer at Schilling and a fire in the wood stove at home. Real winter is still quite a ways away, but it's fun to get a preview in the Whites.
Trails
The Direttissima, Glen Boulder, Davis Path
Total Distance
13 miles, 5,628 ft elevation gain
Time
Start: 9:05am, 7:44 Round Trip
Trail Conditions
Below treeline: wet and muddy, above: icy with a few inches of snow
Gear
Trail runners (should have packed the spikes)
Strava
Download .gpx data
Gallery
Waterfall on The Direttissima
Summit of Isolation with a view of the Presidentials
Balance practice. The whole way back to Glen Boulder.
View down toward the ridge