Mount Washington Road Race
And a lovely hike down
What a great day: my first Mount Washington Road Race, a nice hike down with new friends, getting to spend some time off the track with my running club, great weather (despite the dreadful warnings of below zero temps at the summit)…
This was my first Mount Washington Road Race, so I didn't quite know what to expect having never run such a steep and unrelenting race before. Though it's "only" 7.6 miles, folks say to shoot for a half marathon time and effort, so I imagined it'd take me around 2:00-2:15 on a good day. I have been struggling with low iron levels lately leading to easy exhaustion, nausea after hard efforts and overall not preforming my best, but last weekend went so well at the Chocorua Mountain Race that I was cautiously optimistic.
The course is very straightforward: just stay on the Auto Road all the way to the summit, and when you arrive there, you're done. The course was one of the reasons I wanted to run this race. I despise the Auto Road — It's loud and stinks like gasoline and brakes and necessitates several parking lots at the summit of an otherwise glorious mountain. Besides, for accessibility's sake, there's already a pretty cool train that makes the trip up to the summit. Anyways, I figured if there was one time to experience this scar of a path up Mount Washington, it would be on foot at a time when it's shut down in favor of pedestrian-only travel. end rant
After consuming more than one glazed doughnut and waiting in a couple of long porta john lines, we made our way to the start. It was quite warm and sunny by now, and the nervous excitement was palpable as we waited for the bang of the cannon. Off we go! Not very quickly at first despite the token downhill as over a thousand runners funneled onto the course. I hung behind Cody pretty quickly and tried to jog as the course turned upward pretty steeply. I think I made it most of the first mile before giving in to a power hike.
I alternated between pretty pathetic jog and power hike the rest of the way to the summit. The first four miles were through the forest with some views here and there out toward Pinkham. The second half was stunning with gorgeous views of the Northern Presidentials and across to the Carters and Wildcats. I have never hiked up from this side of the mountain before, so I was struck by how nice the view toward Adams was.
The whole road is switchbacks, and there is one particularly long and anticipatory one in this section that gave me a second wind. I couldn't wait to see what was over the other side. Turns out, it was the summit! I still had a couple of miles to go, but I was excited to see so clearly the Mount Washington Observatory. I gave an actual "whoop" and it put a little more power into my shuffle.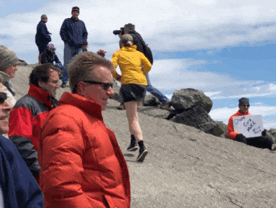 Once we started seeing fast guys with finisher blankets wrapped around them jogging down (most folks choose to get a ride) so I knew we couldn't be too far. Shuffle shuffle shuffle, the elevation rise and last miles were flying by in my enjoyment of the views and excitement for the finish. When I turned the final corner, I saw Cody and some UVRC folks cheering me on, I got up just enough energy to jog despite the super steep grade. When I crossed the finish, I nearly vomited, but I was happy about my final effort, and certainly quite (runners') high.
I took some Gatorade and felt very thankful for the finisher fleece blanket as it was quite brisk in the wind. Cody and I looked for our "ride" to get our packs. Despite working hard for a bit over two hours, I felt pretty much fine and definitely excited for a lovely hike down. We got our packs, I switched to my trail shoes, and down we went on Nelson Craig trail, away from the hubbub of the race and back to familiar White Mountain terrain. We met up with Claire from the running club and her husband Mark who had hiked up to meet her with their dog just down the trail. Though we missed the post-race dinner, we got a lovely part two to our adventure. On one of the sections where the trail crosses the Auto Road, we got to see 99-year-old George Etzweiler with his team making his way to the top — what an inspiration. We did manage to make it down in time for him to receive his metal.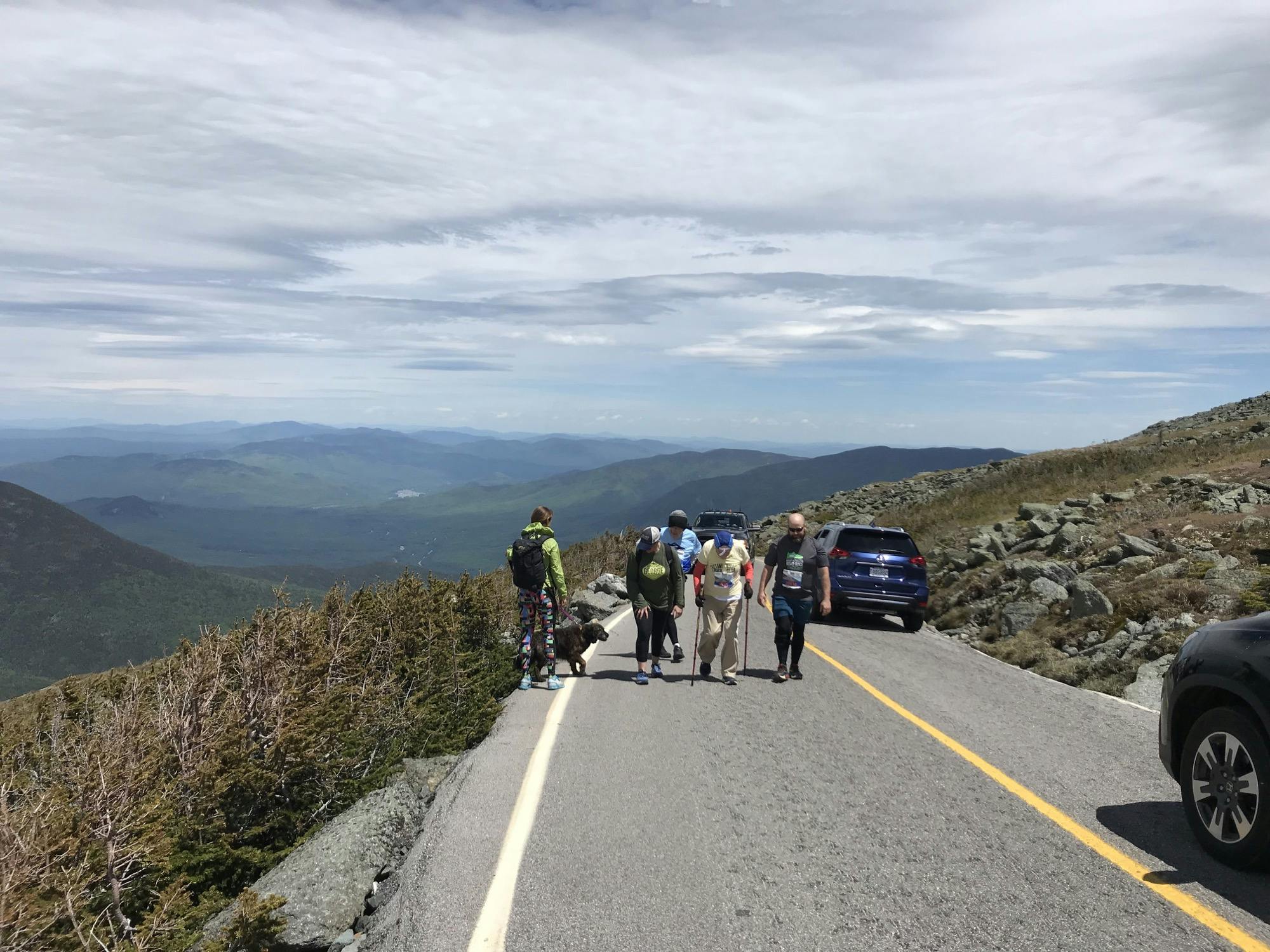 The two mile section of Auto Road we took at the end of our trail reinforced my views about it. It was reopened by that time to vehicles, which went speeding by us. One even honked and yelled at us for no reason we could figure. One can hope they'll shut it down one day and leave this mountain in a more peaceful place, but I'm happy I at least had a fun race car-free on it.
Peaks
Mount Washington (6,288ft)
Trailhead
Mount Washington Auto Road
Race Distance
7.6 miles, 4,659 ft elevation gain
Total Distance
13.5 miles, 4,938 ft elevation gain
Place
598/1016 overall, 28/43 division, 17:02 pace
Weather
Sunny and warm below, sunny and very windy above the trees.
Download .gpx data
Gallery
Me (in yellow) making my way up the last steep bit
99 Year old George Etzweiler completed the race yet again! Amazing.
Hiking down on Nelson Craig Trail